Rogue Traders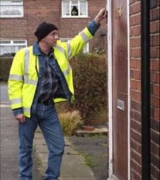 Each year, Trading Standards receive thousands of complaints about uninvited traders and a large majority of these relate to home maintenance work such as roofing, tarmacing and paving, garden and tree surgery, insulation, general building work, burglar alarms and other services.
The work or service offered can sometimes be unnecessary, overpriced, of a poor standard or not done at all. Typically they have no formal training to carry out the work offered and some may have links with distraction burglars.
It is important that people have the confidence to say no to doorstep traders and take the time to think about the service being offered.
The following is advice on how people can avoid being scammed by rogue doorstep traders:
Be cautious; if a trader knocks at your door, do not agree to on the spot house repairs without taking advice.
Be wary of special offers or warnings that your house is unsafe.
Don't allow anyone to pressure you into agreeing to have work carried out. If you ask them to leave and they don't, contact the police on 999.
Do not make snap decisions. If you feel that any work needs carrying out on your property, take time to talk to family or neighbours before you make a decision.
Don't ever go to a bank or cash point with a trader; legitimate traders would never do this!
If you have an experience with a rogue trader, please report it by telephoning 101 and ask for your Local Crime Reduction Officer, or click here if you would like to report it online (if you live within the PE Postcode area) and we can pass it on to the relevant people on your behalf.
For live incidents where the rogue trader is still at the property, or is due to return, contact the police on 999. The police have a protocol for dealing with these incidents and welcome your contact.
---
Free Presentation
We regularly provide free talks to groups (across the PE Postcode district) on how to avoid being a victim of rogue traders and distraction burglars. Our aim, along with the Cambridgeshire & Peterborough Distraction Burglary & Rogue Traders Task Force, is to create awareness, particularly for the older and vulnerable people in our communities who statistically are the most likely to be targeted.
If you run a group and would like to provide them with a FREE presentation on this topic, then please click here or ring 0800 014 1832.
×
Please register or sign in
To submit a review online, add a Member to your favourites or access this part of the website, you must register or sign in.
Please be assured that your details will never be shared