Lotteries, prize draws and sweepstakes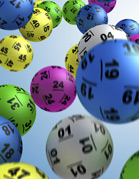 Congratulations! A letter, phone call, text message or email tells you you've won a guaranteed prize or a huge sum of money in a lottery - even though you haven't entered a prize draw or bought a lottery ticket. You're told that, to claim your winnings, you need to send money to cover 'processing' or 'administration' costs or taxes. You may also be asked for personal or financial information for 'identification'. They may also tell you that you have to respond quickly and ask you to call a premium-rate phone number.
This is a scam. The scammers will take your money and you will get nothing in return. If you send one payment, they will contact you again and try to con you out of even more.
Protect yourself
Ask yourself how you could win a lottery if you haven't bought a ticket.
Remember that, if you have won something, you shouldn't have to pay anything to get your prize.
Never reveal credit card or bank account details unless you're sure who you're dealing with.
Don't dial a premium-rate number (beginning 090) unless you know how much you'll be charged and you - or the person paying the bill - are willing to pay.
Caught by this scam?
Report it online at Action Fraud or telephone 0300 123 2040.
×
Please register or sign in
To submit a review online, add a Member to your favourites or access this part of the website, you must register or sign in.
Please be assured that your details will never be shared