Working from Home Scam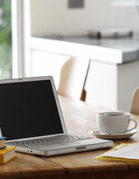 You see an advert in a newspaper, on a website or even on a lamp-post offering work from home, with the promise of fast cash for minimal effort.
When you reply to find out more, you learn that you have to pay an upfront fee to the organisers.
They will take your money and are unlikely to pay you for any work you do. Or you may find that there is no work on offer, only commission for getting other people to sign up.
Of course, there are some genuine work-from-home schemes. They will tell you in writing exactly what you will be expected to do, how much you will earn, and how and when you will be paid.
Protect yourself
If you reply to a job advert, and are asked for money in advance, walk away.
Before signing up to a work-from-home scheme, do a web search on the company, and ask to speak to current workers.
Caught by this scam?
Report it online at Action Fraud or telephone 0300 123 2040.
×
Please register or sign in
To submit a review online, add a Member to your favourites or access this part of the website, you must register or sign in.
Please be assured that your details will never be shared