Nominated Neighbour Scheme
The Nominated Neighbour Scheme is designed to let a trusted neighbour, relative or friend help an elderly or vulnerable person to deal with unexpected or unrecognised callers at their door.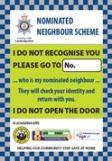 This will help protect them from bogus callers and rogue traders.
The elderly or vulnerable person will ask someone to be their Nominated Neighbour or you could offer to be one. When a visitor calls at their property, they will see the notice (shown here) and if the caller is genuine, the caller can then contact you so that you can check their identity before returning with the caller to your neighbour's home. If you are out, then the caller will have to return another day.
This initiative will help older and vulnerable members of the community feel safer in their homes again.
If you would like to take part in the scheme, please call 101 and ask for your local Crime Reduction Officer or contact us by email and we can do it on your behalf.
---
HOW TO BE A NOMINATED NEIGHBOUR
The Nominated Neighbour notice can be printed off at the link above. One side has the details of the Nominated Neighbour and the other side is to remind your neighbour what to do if a stranger calls. If there are any older and vulnerable members that live close to you, please offer this service to them.
What is your role?
Your friend or neighbour will write your house number (or address) onto the panel on their 'Nominated Neighbour' notice.
When your neighbour has a stranger call at their home, they will see the notice, which will direct the caller to your home.
Check the identity. If an ID card is presented, do not call the number that is on the card, find the genuine number for the company being represented and call that. DO NOT LET THEM INTO YOUR HOME and do not think it is rude to just turn them away.
When you are happy that they are genuine, return with them to your neighbour's home. LOCK ALL YOUR DOORS BEFORE YOU LEAVE.
When you arrive at your neighbour's home, stay with the caller while they conduct their business (unless your neighbour specifically asks for privacy).
Secure both front and back doors and ensure that no one can enter undetected.
Never allow the caller to move from room to room.
Never leave the caller alone.
When they have completed their business, see them off the premises.
The utility companies can arrange passwords, to ensure that only genuine officials gain access to their customers' homes. See more information here
IF IN DOUBT, KEEP THEM OUT
---
HOW TO USE YOUR NOMINATED NEIGHBOUR
Before you use your notice, arrange with a trusted neighbour or a member of your family who lives nearby, to be your 'Nominated Neighbour'.
Ask them if they will be prepared to help you check out the identiy of any person who calls at your door and accompany them into your home while they speak to you.
Once you have found your 'Nominated Neighbour', write their house number (or address) into the space provided on your 'Nominated Neighbour' notice.
REMEMBER, GENUINE CALLERS WILL NOT MIND DOING THIS.
IT IS YOUR HOME.
YOU DO NOT HAVE TO LET ANYONE IN.
---
HOW TO USE YOUR NOTICE
Place the card on the glass of your front door (or window), or near your front door, so that it can be seen clearly by visitors.
When someone calls at your home, look through your window or spyhole in your door. If you do not recognise them DO NOT OPEN YOUR DOOR.
Give them time to read the card. If they do not leave, call your Nominated Neighbour and tell them you have a caller at the door.
Wait for your Nominated Neighbour to arrive. If the caller has contacted them, then the Nominated Neighbour will return to them.
If your neighbour is not at home, do nothing. If the caller is genuine, they will return at another time. If they do not leave and you feel they are suspicious, then call the Police on 999.
REMEMBER:
Genuine callers will not mind waiting.
It is your home, you do not have to let anyone in.
It is not rude to refuse letting a stranger into your home
×
Please register or sign in
To submit a review online, add a Member to your favourites or access this part of the website, you must register or sign in.
Please be assured that your details will never be shared