Miracle Health Cures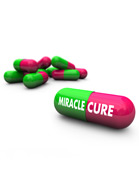 You see an advert; website or email offering a 'miracle cure' or 'scientific breakthrough' that will cure a health problem such as arthritis, diabetes or cancer, or help you to lose weight. The seller will usually say there is only limited availability, and offer a 'no-risk, money-back guarantee' or a 'free trial'. There will probably be quotes from doctors and satisfied customers.
These claims are exaggerated to con you out of your money. It is highly unlikely that the medicines being offered will deliver the quick or miracle cure promised. They may even be harmful.
Protect yourself
Be sceptical about health-related claims. If it sounds too good to be true, it probably is.
Consult a medical professional, such as your GP or NHS Direct before buying any 'cure' by mail order or over the internet.
Caught by this scam?
Report it online at Action Fraud or telephone 0300 123 2040.
×
Please register or sign in
To submit a review online, add a Member to your favourites or access this part of the website, you must register or sign in.
Please be assured that your details will never be shared