Online Dating Scams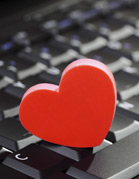 You sign up to an online dating service and meet someone who sounds like the perfect match. You send messages to each other for a while until the person asks for some kind of financial help.
Things the person might say before pleading for your money include:-
"I want to come and meet you but can't afford the flight"
"I have been robbed"
"I need urgent medical treatment"
You pay up to help your new friend - but he or she disappears, along with your cash.
Protect yourself
Never send money to someone you don't know, however plausible they sound.
Only use a reputable online dating or chat service and follow their safety tips.
Report any suspicions to the dating site.
Caught by this scam?
Report it online at Action Fraud or telephone 0300 123 2040.
×
Please register or sign in
To submit a review online, add a Member to your favourites or access this part of the website, you must register or sign in.
Please be assured that your details will never be shared