Shape Your Place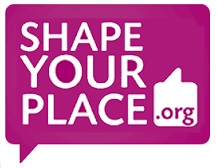 Got a gripe or concern about something in your neighbourhood? Want to share a good idea about how to improve things?
Shape Your Place is a community engagement website which provides Cambridgeshire residents the opportunity to have their say. It is run by Cambridgeshire County Council, but anyone can contribute.
You can blog about upcoming events (or write about them afterwards), make suggestions or raise issues. Where relevant, issues posted on the website are passed to the local agency who is best placed to respond. Within 10 working days a response (comment) will be posted by Cambridgeshire County Council, Huntingdonshire District Council, Cambridgeshire Constabulary or Cambridgeshire Fire and Rescue Service.
All issues are also forwarded to the local County Councillor, District Councillor and Town / Parish Clerk inviting them to join in the conversation.
It's easy to add photos or video to your posts, to comment on other people's posts, and to subscribe to replies to particular posts.
To find your relevant local area, go to www.shapeyourplace.org
Another useful site, where you can report and discuss local issues such as graffiti,

fly tipping, broken paving slabs, or street lighting is https://www.fixmystreet.com
×
Please register or sign in
To submit a review online, add a Member to your favourites or access this part of the website, you must register or sign in.
Please be assured that your details will never be shared